1948
Ron Ciervo – Coliseum ,
St Petersburg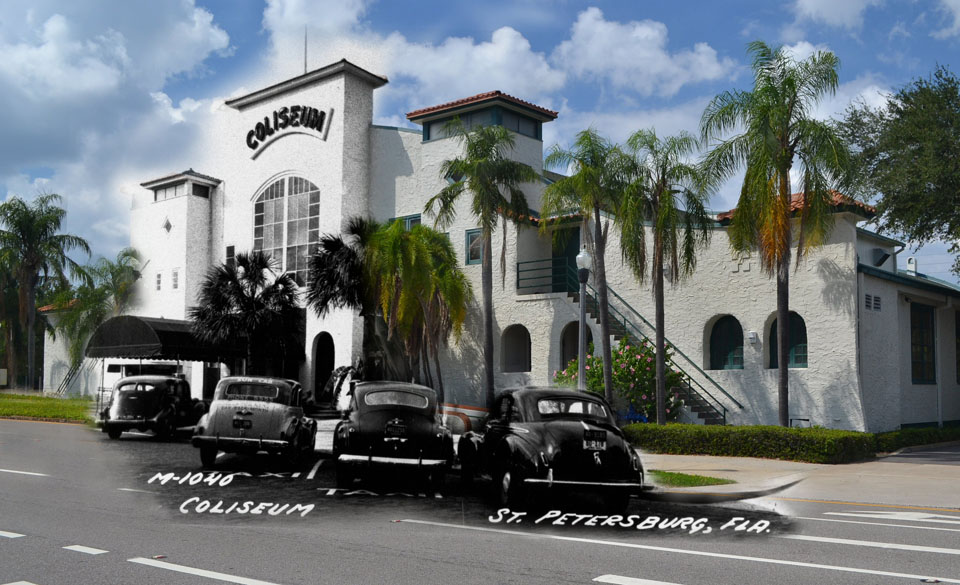 Description
Ron Ciervo took the modern photo and created a composite with a vintage B&W photo of St. Pete's Coliseum.
The Coliseum opened in 1924 and its 12,000 ft² dance floor made it the largest dance hall in the country. In its hayday, the Coliseum featured entertainment by the likes of Glenn Miller, Count Bassie, Dizzie Gillespie, Louie Armstrong, Rudy Valley, Guy Lombardo, and Duke Ellington. The Coliseum was purchased by the City of St. Petersburg in 1989. Interesting anecdote…the Coliseum and its fabulous polished red oak dance floor was the setting for Don Ameche's dance scene in Ron Howard's Cocoon in 1989.
You can view more of Ron's photography on his Flickr page.
Photo Credits
Historic photograph Courtesy of the City of St. Petersburg
Modern photograph by Ron Ciervo
Keywords